On the 13th of October 2018, we participated in the Megamarsch-Frankfurt. It's an event where you try to hike 100 km in 24 hours. About 1700 people took part and only 500 made it through the finish line. We got to kilometer 40 and it took us exactly eight hours. It was great fun, even though the organization of the event was incredibly bad. If you are interested in walking a Megamarsch, I recommend the Megamarsch-Munich, in which I participated in 2016 (website). Much nicer than the actual Megamarsch, was my training hike over the Burgensteig, on 09th of October 2018. The Burgensteig is a hiking trail that leads from Heidelberg – over a total of 120 km – to Darmstadt. It also passes my hometown Weinheim. So I started early in the morning at home and made a total of 45 km to Zwingenberg and passed a lot of beautiful places:
First there was the Hirschkopfturm, from where I could take great photos of the Wachenburg-Castle. A little further on, at the height of Hemsbach, I passed the Waldnerturm (a tower built in the middle of the 19th century to hold hunting parties). The surrounding fields lay mystically under the fog and were great to look at.
The pilgrimage site Kreuzberg is an open-air church with a long history: Originally a pagan cult site, monks from Lorch built a small chapel there in 1347. Today a pilgrimage to the Kreuzberg takes place every Whit Monday.
Lunch break on the Burgensteig
I had my lunch break in Heppenheim. The town has an idyllic medieval town center and the St. Peter's Church is very impressive due to its size. Directly behind Heppenheim lies the Starkenburg-Castle, which is not very pretty at the moment due to many renovation works.
The Bismarck Tower was built on the Hemsberg (a little mountain) in 1902 and is open on Sundays and public holidays. It was named after the first chancellor of the German Reich, Otto Eduard Leopold Fürst von Bismarck (1815 – 1898).
The Staatspark Fürstenlager was the summer residence of the landgraves and grand dukes of Darmstadt and Bensheim, built in 1790. A beautiful park with impressive buildings.
When it finally got dark, I reached the castle of Auerbach, which was already closed. I descended into the valley and walked with my headlamp over the vineyards to Zwingenberg. There I took the train back to Weinheim.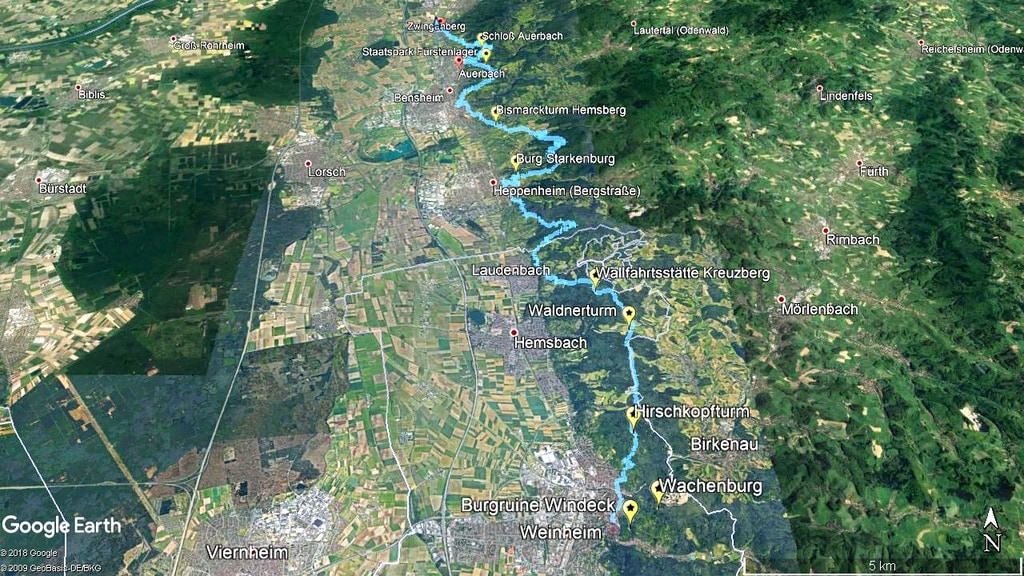 I hope to be able to hike the remaining stages of the Burgensteig soon. Here are a few useful links:
Impressions of the Burgensteig hiking: